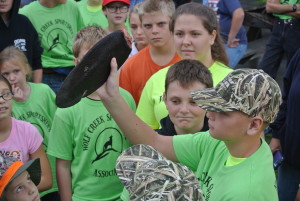 We didn't have the best weather and had a wet and rainy start to the day, but we were able to make the best of it! Over 120 children aged 7-17 were present at our Youth Outdoor Symposium!
We saw a mix of new faces and repeat attendees this year making this one of our largest youth events ever! Children were instructed in and participated in firearm safety, trap shooting, rifle target shooting, archery, atlatl, hatchet throwing, boat safety, decoy painting, and trapping.
We extend our gratitude to our sponsors (The Ohio Department of Natural Resources Division of Wildlife, Sport Fish Restoration Program, and Sport Fish & Wildlife Restoration Program) and volunteers who helped keep this event running smoothly and safely, without you this event would not be possible!
Stay tuned for the photo album to be posted!