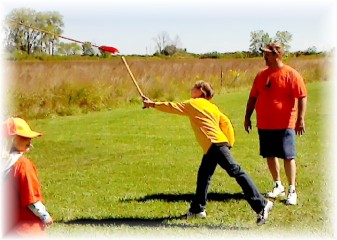 Oliver Goldsmith once said, "People seldom improve when they have no other model but themselves to copy after." Well, it was the best of times and a LOT of hard work by many WCSA members but the 2012 Youth Day was a great time and a great model for all!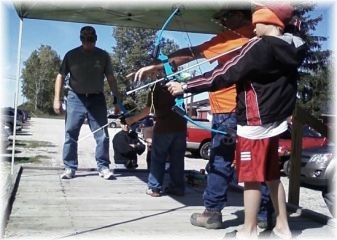 A sunny day with gentle breezes, we had our largest group to date! New to our host of events, we had a great turn out for our fishing station. Moreover, kids enjoyed throwing axes and atlatls while others practiced their archery skills shooting fish in a home made pond. And always a favorite, many turned out for Shotgun Trap Shooting and Firearm safety at our Rifle Marksmanship Training Range.
All involved admired the many varieties of fish created by the kids inside the meeting hall. Then, lunch was served at noon and enjoyed by both kids and parents!
Afterward, it was back to the many station events to finish up the afternoon.
Last but not least, folks jumped in line and enjoyed our Fish Fry Dinner -- relaxing after a great day of fun! In all, over 96 registered youths participated and each child received a T-shirt, hat and a fishing pole. Thank you to all those who helped.